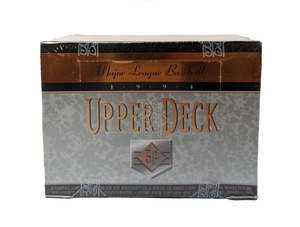 1994 MLB Upper Deck SP Baseball
Regular price
Sale price
$1,549.00
---
| | |
| --- | --- |
| Brand | Upper Deck SP |
| Product Year | 1994 |
| Sport | Baseball |
| Box Style | Hobby |
More Details
1994 SP Baseball is led by the rookie card of one of baseball's all-time great sluggers.  Like the previous year's release, condition sensitivity has left a lot of cards far from mint, giving a premium to those that grade highly. The set also contains one of the more memorable insert sets of the 1990s.
1994 SP Baseball goes all-foil for its design, not just the Premier Prospects like in 1993. Veteran players have a dark design. Fronts are dominated by the player photo, save for a stripe that runs down the right side of the card. It has a series of SP logos running down the side as well as a single Upper Deck logo. The player's name and position runs vertically at the stripe's edge. The team name is at the bottom of the card in small white writing. The 1994 SP Baseball checklist has 200 cards.
The first 20 cards in the set make up the Premier Prospects subset. Consisting largely of rookie cards, Premier Prospects use edged foil that gives a textured feel to the cards. Photos are full-bleed and have a thin stripe running near the bottom of the card that has a special logo.
The 1994 SP Baseball base set has a Die Cut parallel set. These cards, which are inserted one per pack, have an arc cut out of the top of the card. Although these parallels don't carry a huge premium, Upper Deck did include a security measure to help prevent people from cutting base cards. Die Cuts have a silver hologram on the back whereas regular cards have a gold hologram.
1994 SP Baseball Holoview FX is the set's main insert set. Falling 1:5 packs, the cards are highlighted by a 3D player hologram at the bottom of the card. The 38-card set also has a Die-Cut Red parallel. Much rarer, these cards fall 1:75 packs and remain extremely popular with collectors.
24 packs per box, 12 cards per pack
Alex Rodriguez Rookie Card #15
Alex Rodriguez Holoview FX Die-Cut Red #33
Ken Griffey Jr Holoview FX Die-Cut Red #12
Bo Jackson Holoview FX Die-Cut Red #15
Michael Jordan Holoview FX Die-Cut Red #16
Ozzie Smith Holoview FX Die-Cut Red #36
Tony Gwynn Holoview FX Die-Cut Red #13
Ken Griffey Jr #105
Cal Ripken Jr #126
Michael Jordan #16
Alex Rodriguez Rookie Card #15
Derek Lee Rookie Card #10
Trot Nixon Rookie Card #11
Billy Wagner Rookie Card #18
Special Edition Die-Cuts (1:1)
Holoview FX Die-Cut Red (1:75)